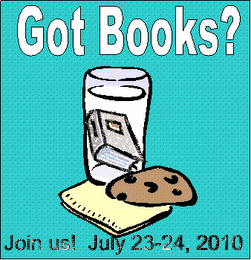 Thanks for stopping by! I apologize for getting this post up late. I have been in San Antonio all week with some of my teachers for a workshop and didn't get in until late last night. Sleep was the first thing on my mind, and was until late this morning.
If you don't know about the
Got Books? Event
, then click through to check it out. There are over 100 blogs participating and each one is hosting a giveaway of the bookish kind. There's even a
Kick-Off contest
that's running until midnight, July 24th.
So, what's up for grabs here at Write For A Reader? I'm glad you asked! I have 3 great children's books up for grabs for one lucky person. Just fill out this
form
and you are entered...it's that easy! You have until tomorrow at midnight, and then the winner will be emailed on Sunday, July 24th.
Orangutans are Ticklish
- In this knockout book of animal photographs, perfect for the youngest animal lover, you'll discover all sorts of things. Did you know that orangutans are
ticklish
? Yes, they are—just like you and me. But be careful if you ever see a hippo yawning. It doesn't mean he's sleepy—it means he wants to fight.
Once Upon a Twice
-
Out in the open, in the clear,
Where any wisenmouse would fear,
Jam licks his paw, he grooms an ear,
And never hears approaching hisssss . . .

What will happen to the brave mouse Jam when he breaks the rules and goes for a moonlit adventure against the advice of the elder mice?
Bubble Trouble
- When little Mabel's bubble gets away from her, it's her baby brother who gets into trouble. Soon he's floating out of the house, above the fence, and all over town! And it's up to Mabel, Mother, and the rest of the townspeople to get him safely back down. Who knew that so much trouble could come from one little bubble?
Again, thanks for stopping by, following if you'd like so you can check out my reviews and other fun to come, entering if you choose, and then checking out some of the other contests as well. Got Books?